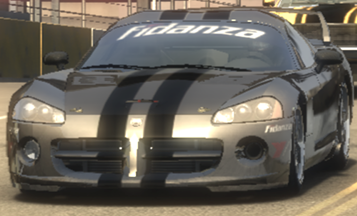 Ravenwest are a team featured in Race Driver: GRID and GRID Autosport.  Ravenwest are considered to be the best team on the game, ranked #1 in both standings, as your team manager might say along the lines of "
Ravenwest are in this event. Aim for third."
 Unless you and your teammate are numbered 00, 01 and 02, Ravenwest will carry 01 and 02 on their cars. Their drivers are an American Nathan McKane, Rick Scott who is Scottish, Arron Westley who is English, Leo Garnier who is French, Faisal Mahmoud who is Arabian, Hector Gonzalez who is Spanish, Yuki Nakamura who is Japanese and Tang Qiang who is Chinese. Ravenwest are on the cover of their game except for Grid 2. Ravenwest's livery is mainly silver with black
racing
stripes. Their main sponsor is Fidanza, which can be unlocked as a sponsor for your team in Grid World. The Ravenwest DBR9 sports a black, contoured 'raven' decal on its sides. You drive a Ravenwest Viper on the first race you do, which is a Pro Muscle event at San Francisco.
BMW 320si WTCC
Dallara Formula 3
Ford Mustang Boss 302
Dodge Viper
Aston Martin DBR9
Koenigsegg CCXR
Maserati 3.000
Ferrari 5.200
Tata 8.900
Nissan 350z
Nissan Silvia s15
Mazda 787B
Subaru Impreza (Colin Mcrae Dirt 2)
TVR Tuscan Challenge

The Codemasters rally game Colin McRae: DiRT 2 will gift you a Ravenwest livery for the Subaru Impreza if a Race Driver: Grid profile is detected on your system.